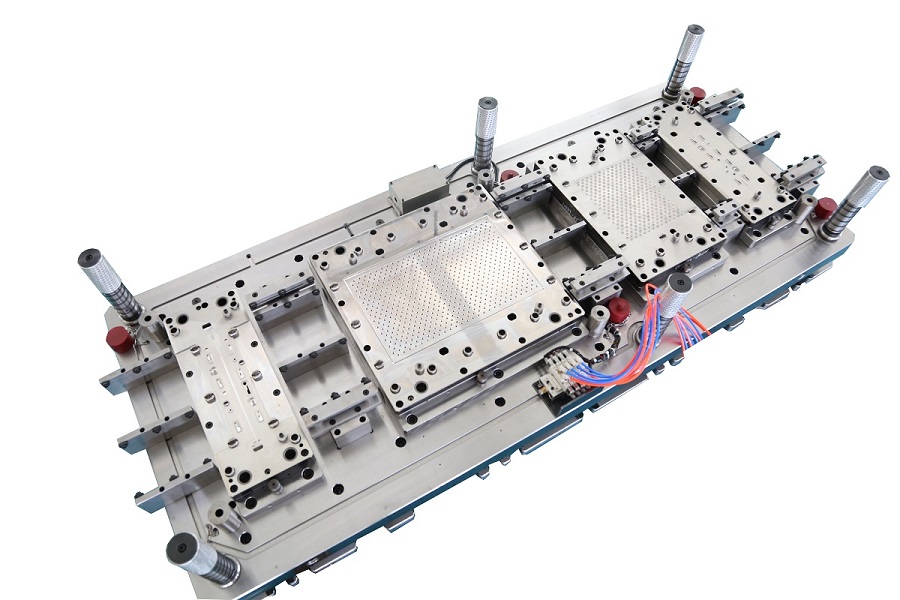 Background: Stamping mold is the most important process equipment for modern sheet metal manufacturing. The original manual stamping production line is unstable, low in efficiency, product quality cannot be guaranteed, and labor costs are high. These factors directly affect the market competitiveness of the final product manufacturer. In response to the above-mentioned common problems and in order to meet the efficient production requirements of the stamping manufacturing industry in the future, SUNSN has focused on Stamping die manufacturing and automated stamping production lines since its establishment, which contributes to one of our company's core technologies.
Stamping mold: With years of experience in the R&D and manufacturing of precision molds in the home appliance/automotive industries, combined with Auto-form and other part forming analysis software, SUNSN can provide partners with a full range of new product development and manufacturing risk assessments to shorten the product development cycle, and the most suitable and economical mold plan. SUNSN actively promotes research and development in the technical field of stamping mold manufacturing, continuously optimizing the mold structure, manufacturing process and automation technology, and has obtained a number of patents.
Case 1: In the past, large-size parts required separate stamping in multiple small presses, and the traditional progressive mold requires long pitch and many steps, which requires occupying the large press, which causes low efficiency. At present, PLC and progressive mold are combined to realize multi-step and unequal pitch stamping technology, which effectively reduces the mold size and meets the feasibility of large parts production on small presses.
Case 2: In order to save the cost of mold investment, R&D personnel put forward higher requirements for mold structure, to meet a variety of compatible functions of similar products. Although the function can be realized by manual replacement in the past, the manual replacement requires professional technical personnel to implement, and the replacement time is long, which affects the production efficiency. Now the PLC is combined with the mold to perform functions such as automatic replacement of parts and automatic model change, which effectively reduces the number of molds and solves the problem of compatibility of multiple parts and difficulty in manual replacement.
Wuxi IDO Technology CO.,LTD
Business Type:Manufacturer
Product Range:Moulds
Products/Service:Stamping die , Automatic production line , Customized equipment , Home appliance stamping die , progressive die , Melt-blown die
Certificate:ISO9001 , CE
Company Address:No. 99, Furong Middle 3rd Rd., Xishan Economic Development Area, Wuxi, Jiangsu, China